Covid - 19 Protocols at the Steveston Judo Club
Steveston Judo Club (SJC)
Planning for Return to Play – Indoors…
Based on Judo Canada Guidelines, Judo BC and Via Sport Requirements
Proposed Date of Return to Play: Limited return: September 7th
Location: Steveston Martial Arts Centre
Planning Committee members:
Ron Kuramoto, SJC Head Instructor, Consultant-Meson Hall Coordinator-TRIUMF Laboratory UBC
Nicki Ordano, SJC Executive, Member At Large, Administrative Services Leader, Heart Centre, Providence Health Care
Lisa Nakajima, MD, SJC Instructor, Judo BC Vice President
Kane Morishita, SJC Head Coach, Battalion Chief - Vancouver Fire and Rescue
Services
Jim Kojima, SJC Director, Director Steveston Community Society
Alan Sakai, President SJC, President Steveston Community Society
Requirements:
All participants and coaches to be made aware of following information through Social Media and required meetings.
● Clubs must complete the Judo BC Return to Judo Club Screening at http://www.trackiereg.com/returntodojoclubscreening and receive approval from Judo BC and Club Executive
● Prohibition of gatherings of 50 people or more
● Self-isolation for individuals who have symptoms of COVID-19 for a minimum of 14 days
● Self isolation for 14 days if returning to Canada from another province or country
Screening:
Participant Agreement and Covid-19 Questionnaire attached and copies sent to all participants prior to sessions and available at Dojo.
● Questionnaires must be completed by all coaches/instructors and judoka prior to every session.
● Participant Agreement to be completed
● Screening official to check for completion of questionnaire and agreement
● Participant temperature checked by Screening official
Facility: See Floor plan and Sanitizing Protocols
o Daily Cleaning service to be coordinated with the Steveston Community Centre Staff through Steve Baker or designate
o Maximum number of participants must be calculated on the number of tatamis in each facility
o 8m2 per participant and per instructor/coach are the minimum requirements. Spacing between participants to be maintained while moving on the mats
o No spectators
o Allow 15 minutes between sessions for sanitizing the mats and equipment – see attached requirements
Individual:
o Wear a non-medical mask. New mask or clean reusable mask for each session.
o Hands sanitized before and after stepping onto the tatami
o Feet to be sanitized before and after stepping onto the tatami or new clean socks provided by the club
o These protocols are not recommended for children under the age of 12 unless additional supervision can be provided to ensure cooperation with the safety protocols
Entry & Exit:
o No waiting area
o All participants and instructors must arrive wearing their judogi
o Participants only allowed in the dojo when it is time for session to begin and must leave immediately after the session is complete
Allowed Activities:
Tendoku-renshu (individual work)

Fundamental motor and technical skills of Tachi-Waza, Ne Waza & Ukemi (fall) practice (individually)

Postures, movement, coordination, mobility, core-stability, taiso, etc.

Individual strength, conditioning & flexibility exercises
Prohibited Activities:
∙ No high intensity training (Tabata, HIIT etc..), no partner work (unless partner is from the same household and/or the same social bubble), no randori and no kiai. Intensity level should allow for conversation, for more information please review to Judo Canada exercise intensity - https://www.judocanada.org/wp‐content/uploads/2020/06/Judo‐ Canada‐Covid19‐Return‐to‐judo.pdf
Attachments:
1. Dojo Floor Plan
2. Covid Questionaire
3. Participant Agreement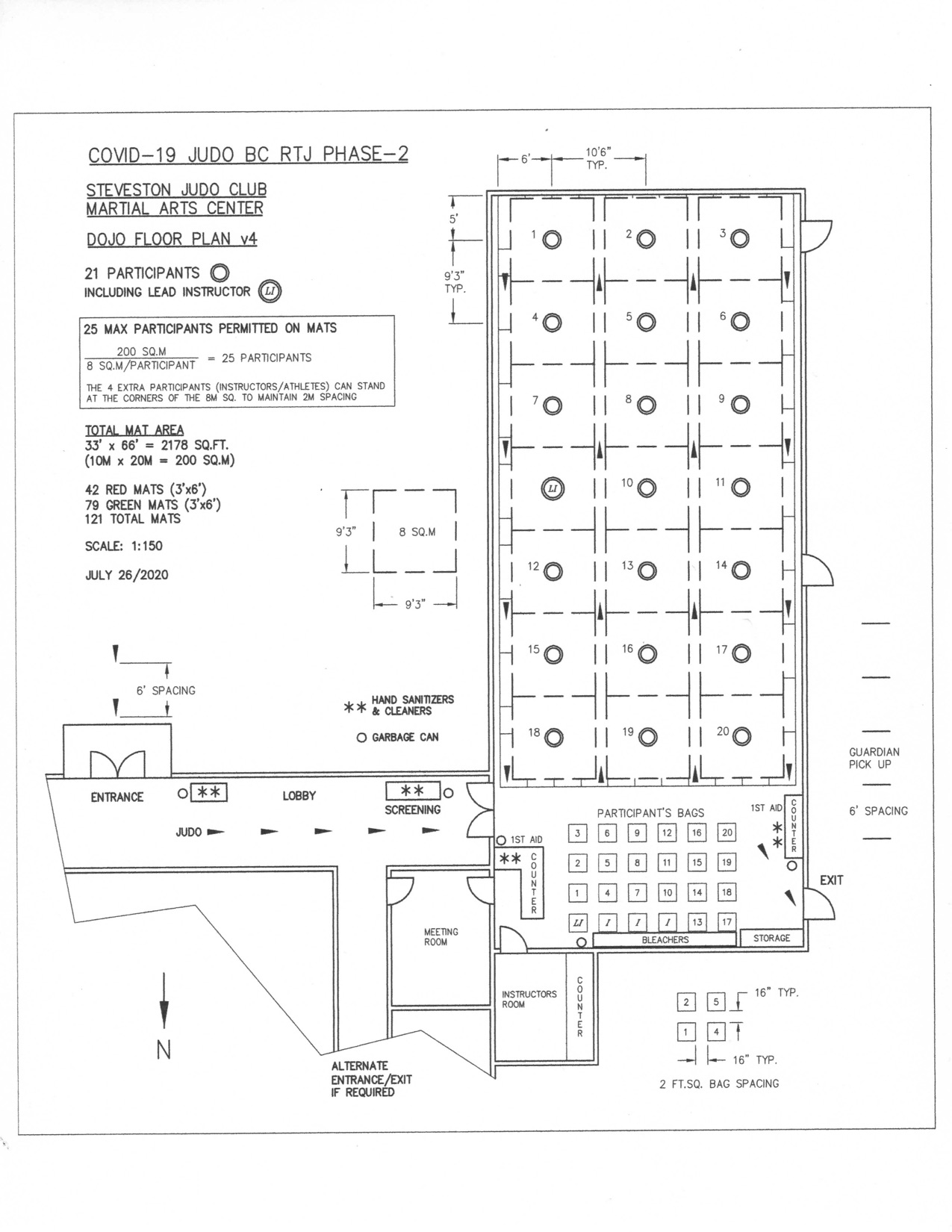 Dojo Floor Plan for Individual Instruction.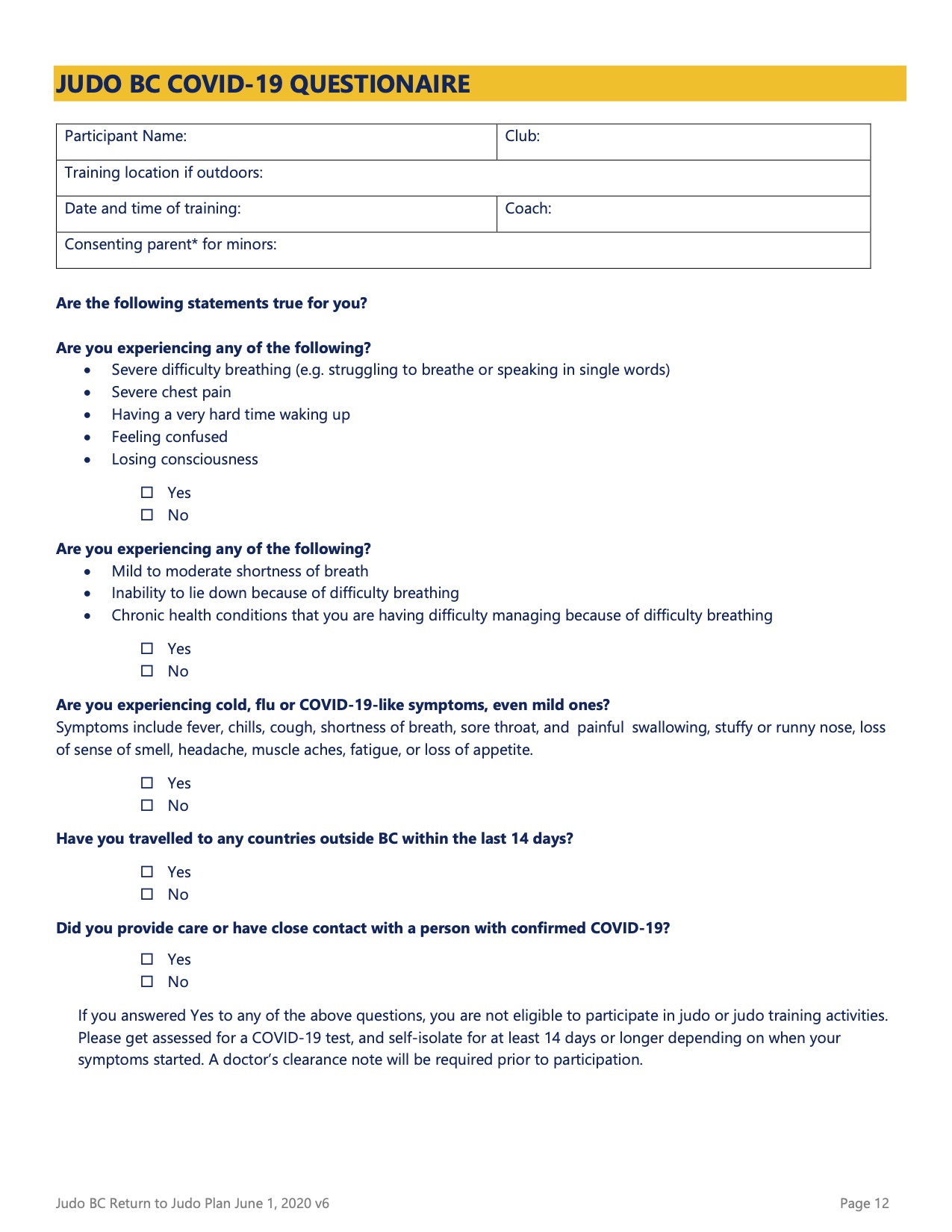 Short Video of Sensei Lisa demonstrating some of the individual training lessons.